Thermoreflection characteristics of paints containing Nanoceramix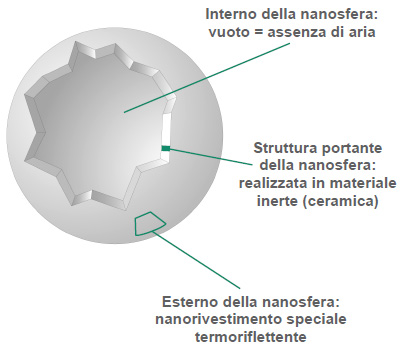 Nanoceramix is a mixture of ceramic nanospheres formulated for any type of common paint, and is also found within the special paints Insuladd, a range of heat-insulating and heat-reflecting paints for specific uses.
The ceramic nanospheres contained in all Insuladd products have an internal vacuum similar to that of thermos.
Their molecular properties allow the products that contain them to block the dispersion of heat outside the house in the cold months and to avoid the absorption and accumulation inside of unwanted heat in the hot months. All Insuladd ceramic paints, or ceramic paints with the addition of the compound Nanoceramix, are presented externally as a normal painting.
Insuladd paints (or treatment with Nanoceramix) give the treated walls unique and innovative energy saving properties as the surface is able to reflect the heat acting as a radiant barrier.
The special nanocoating that envelops each nanosphere (designed and patented in collaboration with N.A.S.A.) reflects the heat of direct sources such as sunlight, or radiators, and improves comfort by making the home cool in summer and limiting consumption in winter.